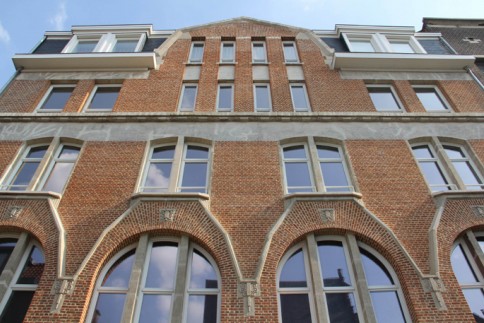 Van Belle & Medina is an internationally acclaimed architectural practice which continues to cement its reputation by winning many prestigious competitions. Our work encompasses the whole gamut from residential projects, institutional buildings, infrastructures to urban master plans, and landscape projects. Award-winning projects such as t the 'Innovative Living in the future' Elderly Health and Care Centre in Sint Truiden, the headquarters of the VDAB in Kortrijk, the Psychiatric Campus –Master Plan and Architecture- UPC Sint Kamillus in Leuven, and the Faculty of Pharmacy of the University of Granada, among others, have strengthened the office's expertise in the development of a wide range of projects of differing scales and scopes .
Housing schemes in Antwerp and Brussels, The Droogdokken Park Antwerp, the Cultural project complex La BIomista Park in Genk in collaboration with artist Koen Vanmechelen, among other private and public commissions, are currently on the drawing board and are in the process of execution..
The firm was founded in 2004 after winning the international prize EUROPAN 7, and since that, the office has often been invited to participate in public and private competitions, which have generally led to successful results and highly executed projects.
Since graduating, Kurt Van Belle and Patricia Medina have maintained a balance between their professional activity and their academic involvement. They have been teaching in several of the most prestigious Universities in Europe, like TU Delft, AvB Maastricht, E.T.S.A. Granada and at EsArq – UIC Barcelona, and are frequently invited to Lectureships and exhibitions.
The work of Van Belle & Medina is featured in numerous international architecture and urbanism publications such as 'a+u'(Japan) and 'Arquitectura Viva'(Spain).
Van Belle & Medina architecture springs from the idea that each project is an expressive tool to reflect contemporary life. Creativity and innovation is at the core of our design process, which responds to the global and local needs of a society that is in a process of continuous transformation.